Dear friends, family, and wonderful people I have yet to meet
I am looking for allies to help me on my passionate learner experiment journey. Through this experiment a group of students and myself are trying to answer the question
"How can I change the world in 24 hours?"
and explore our passions. I am trying to see what I can do to make a change in my community about something I am passionate about. I have determined that
I want to work to help get more drama education in elementary schools
and I will need some help. I would love to know what you think and what kind of drama education you would have liked in elementary school? Drama and theatre has so much wonderful things to teach us if we get the opportunity to learn it. By sending me what you what kind of drama you would have liked in elementary school I can get a better understanding of the most important things missing from the programs right now and work to help change them.
Thank you show much for your help everyone! The more help, support, and information I have the more I can work to make a difference in the world around me :)
Sincerely
Abby Skene (AKA Positive Pinky)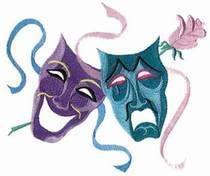 From: http://img.photobucket.com/albums/v449/wendylady1/Random%20Journal%20pics/New%20Year/theatre_masks.jpg